We've made a list of google chrome extensions for designers. In this blog post, we'll share the Google Chrome extensions for the designers to increase their workflow and work with ease.
What is the easiest way to find out the fonts used in a web page? Firebug and Web kit Inspector are easy enough to use for developers. However, for others, this should not be necessary. With this extension, you could inspect web fonts by just hovering on them. It is that simple and elegant.
The freshest links about design and interactive, from around the web. A designer's must!
Bringing you the freshest design, UI, UX and interactive news and shots from around the web. All the design inspiration you need.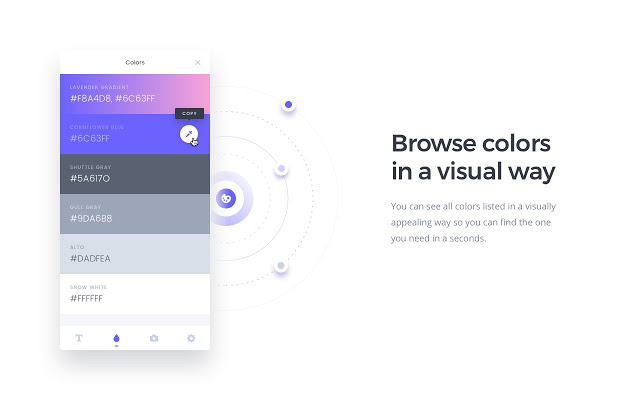 No more digging in a code. Inspect styles in a simple, well-organized & beautiful way. Get it now!
CSS Peeper is a CSS viewer tailored for Designers. Get access to the useful styles with our Chrome extension. Our mission is to let Designers focus on design, and spend as little time as possible digging in a code.
Sitemod lets anybody modify a website without having access to the source code and get a shareable link to the modified website.
Agencies & Freelancers – Simplify your workflow
Drop the screenshots and let your clients view real-time edits to their website by providing them with an unique URL of the modified version.
Sales & Marketing – Increase conversion rates
A customer who sees your app live on their own website is more likely to convert. Install your app on any website in the world an use the unique URL in your marketing campaigns.
Website Owners – Enhance your site
Use our App Store for Web Developers to discover, test & use web apps. Try any app without writing a single line of code.
Shift Click is everything you need:
– an Instagram image downloader
This extension generates automatically a short URL that allows you to share *any* images in a record time. No useless UI in your browser, this simple shortcut helps you to keep it clean!
Shift Click uses a hit test to bypass blank divs from getting at the image.
That means no more right-click + inspect. You can leave the dev tools behind.
Some of the best google chrome extensions you need to try. Which one is missing? Which one is your favorite? We love to hear about your thoughts in comment section.
Keep grinding! Have a great time ahead.